These days, a great printed marketing piece is a rare gem. Because of that, printed marketing tools have become more impactful and special. This is why equipment such as offset printing machines remain a crucial business component, especially for brands that rely on making tactile connections with their customers through catalogs, brochures, and other high-quantity direct mail.
What is offset printing?
In offset printing, the texts or images that need to be printed are transferred from a metal plate to a rubber blanket that's mounted on robust iron rollers. The roller is one the of the most important parts of the offset printing machine because it's the one that gets the printing done.
"Offset" is a technical term meant to define the process in which the image is transferred from the metal plate and onto the rubber blanket. Afterwards, the surface or substrate which is the final printing medium could be a book, a newspaper, a magazine, or any other types of printing media.
How do offset printing machines work?
Offset printing is the workhorse of the printing industry. Almost every commercial printer relies on their offset printing machine.
Here's how it all works:
Before printing, a printing plate is created for each ink. This means that there's a total of 4 plates for the 4 primary ink colors: CMYK (cyan, magenta, yellow, and black).
To start an offset printing press run, the imaged plates are clamped onto the plate cylinders. The ink settings are then adjusted to accommodate the specific ink density that's needed for the run. The press operator then runs an initial batch of sheets through the press at low speed while checking the color alignment as well as the water/ink balance. This ensures that there's a steady and full ink flow for accurate reproduction of colors. While the press is running at low speed, the operator can adjust the ink density and plate positions.
The plate's image area picks up ink from the ink rollers, while the water rollers keep ink off of the plate's non-image areas. Each plate then places the image to a rubber blanket, which in turn transfers the image to the paper. The plate itself does not touch paper, thus the term "offset." All of these occur at an extremely high speed.
The paper becomes slightly wet by all the water and ink being applied. Since there's a risk of the ink smudging, this is avoided by having the papers pass through an oven. The oven is then gas fired, and the temperature inside the oven runs from 176 to 206 degrees Celsius (or 350 to 400 degrees Fahrenheit).
Immediately after the paper leaves the oven, it runs through a short series of metal rollers where refrigerated water flows. The chill rollers instantly cool down the paper and set the ink. If this wasn't done, the ink would easily rub off on your fingers.
Are there different types of offset printing machines?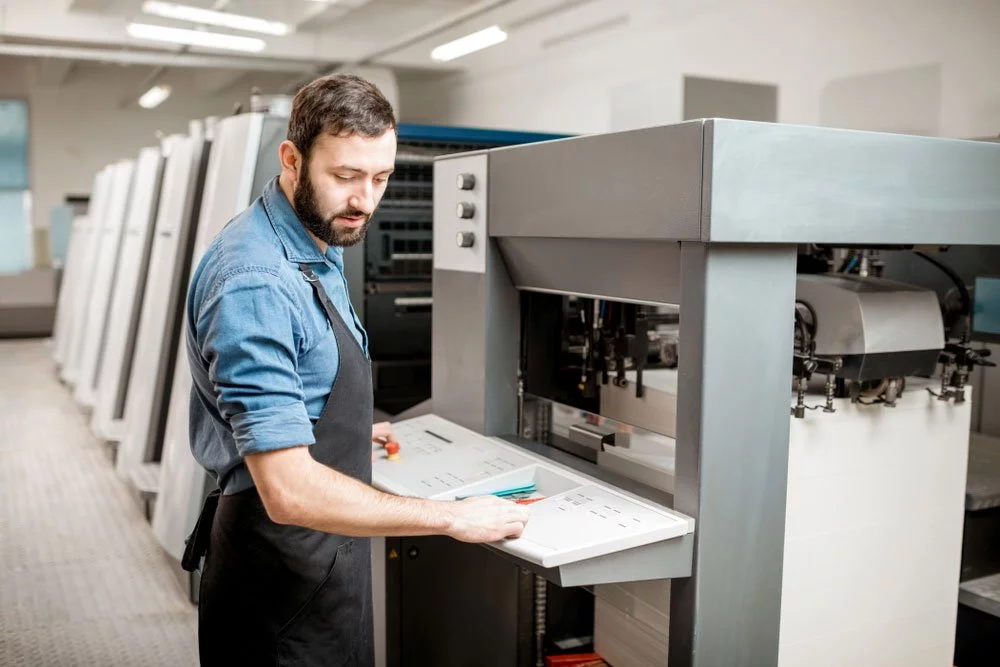 Yes, there are different types as offset printing presses aren't a one-size-fits-all solution. Here are the three major types widely used in the printing industry:
Web offset printing machines
In web offset printers, continuous rolls of paper are fed through the printing press. The pages are separated and then cut after they are printed. This type of offset printing machine is ideal for printing high-volume publications, such as mass-market books, newspapers, magazines, brochures, and catalogs.
Some web offset printing machines transfer images and text to only one side of the print medium at a time. Other can simultaneously print on both sides. The width of the papers is usually between 11 and 56 inches or approximately 28 and 142 cm. The papers are fed through the web offset systems at speeds ranging from 1.5 to 15 meters per second (or 5 to 50 feet per second).
Sheet-fed offset printing machines
With sheet-fed offset printing machines, sheets of paper fed into the printing press to be printed on. Some sheet-fed presses have a part called the perfector cylinder, which enables the operator to flip the paper sheet so both sides can be printed on in a single pass.
Most sheet-fed offset printing machines can print from approximately 4,000 to 18,000 sheets in an hour. The printed products are huge and cover most items printed, except for long runs of magazine publications and certain types of packaging.
Compared to web offset presses that are ideal for high-volume publications, sheet-fed offset machines are popular for small to medium-sized fixed projects such as limited-edition books.
Quick set offset printing machines
Quick set offset printing machines are used to print high-quality images such as instruction books, trademarks, and periodicals. These printing machines dry slowly and set quickly, allowing the printing machine to save ink. Additionally, the printed materials dry faster compared to the products that come out of offset printers.
How much does an offset printing machine cost?
It's impossible to decide the standard price of an offset printing machine as it's largely dependent on the make of the machine you're buying. The price also depends on three factors, namely:
Size of sheet to be printed
Number of colors to be printed
Additional options in the machine aside from the standard equipment
However, if you search for used offset printing machines in online sites such as Carousell, a single color offset printing's machine price can range from Php100,000 to Php600,000. Meanwhile, a 4-color offset printing machine's price can reach up to Php1,400.00.
What are the advantages of offset printing machines?
Compared to other printing methods, an offset printing machine is considered the best choice for producing large volumes of high-quality prints. Here's why:
Cost
Using offset printing machines is often the best option when you need to print large volumes of images and the color reproduction should be clean, crisp, accurate, and professional-grade. This is the main reason why they're widely used to print books, magazines, newspapers, brochures, and stationery.
Additionally, the overall costs for using an offset printing machine is much lesser compared to other types of printing press. In offset printing, the more that gets printed each cycle, the greater price reduction for each piece of print.
Variety
Offset printing machines can work on a wide variety of printing surfaces. These include leather, cloth, metal, plastic, paper, and wood.
Control
Ink, which often runs out or fades when you use direct printing methods, is more controllable in offset printing machines. By twisting and screwing keys, the operator can control the ink flow, helping minimize wasted prints that results from insufficient contrasts.
Five of the best offset printers
There are plenty of offset printing machines available in the market today, but we've narrowed down this list to five of the best in the industry.
Heidelberg offset printers
Heidelberg has a comprehensive product portfolio in sheetfed offset printing, allowing you to find tailor-made solutions for each of your requirements. From basic offset printer models like the Speedmaster SX and CX to the innovative units from the Peak Performance class, their solutions offer unbeatable productivity.
Their offset printers also feature color measurement systems that are on par with industry standard color stability. They provide users with the performance they need in order to respond easily and flexibly to ever-changing daily requirements.
Hamada offset printers
Hamada Printing Press Co., Ltd. Manufactures offset printing machines used widely by offset printers around the world. They're suitable for services like printing pamphlets, letterheads, and brochures. Regarded as some of the best offset printers, the machines are known for their excellent performance, running conditions, durability and low maintenance costs.
Autoprint offset printers
Autoprint has an extensive range of offset printing machines including single color and 4 color models. They have machines designed especially for entry level printing entrepreneurs, DTP units, letter press houses, and screen-printing units. All of their solutions meet international standards at highly competitive prices and share these common traits and characteristics: innovation, cost-effectiveness, and customer-centric product design.
Fujifilm offset printers
Fujifilm's offset printing machines are the benchmark by which the best offset printers are judged. With a choice of both violet and thermal technologies, they've built an extensive product portfolio that provides customers with the technologies and tools they need.
Aside from offset printing units, they also offer a complete range of founts, coatings, washes, sprays, glues, silicones, and auxiliaries that optimize performance in the press room.
Prakash offset printers
Based in India, Prakash offers web offset printing machines that are ideal for printing books, newspapers and other both side printing jobs. Being one of the largest manufacturers of offset printing machines in the world, their products are all sold at competitive prices.
Sure, people love looking at their phones and they rely on the Internet for almost everything these day but sometimes, nothing beats the tactile feel of beautiful print and gorgeous paper.
As part of a comprehensive strategy, offset printing machines are powerful tools to have in any marketing arsenal. Whether you manage your own print or work with a trusted partner to do your offset printing for you, you can spread the love about your brand through beautifully printed pieces that explore the sense of touch.